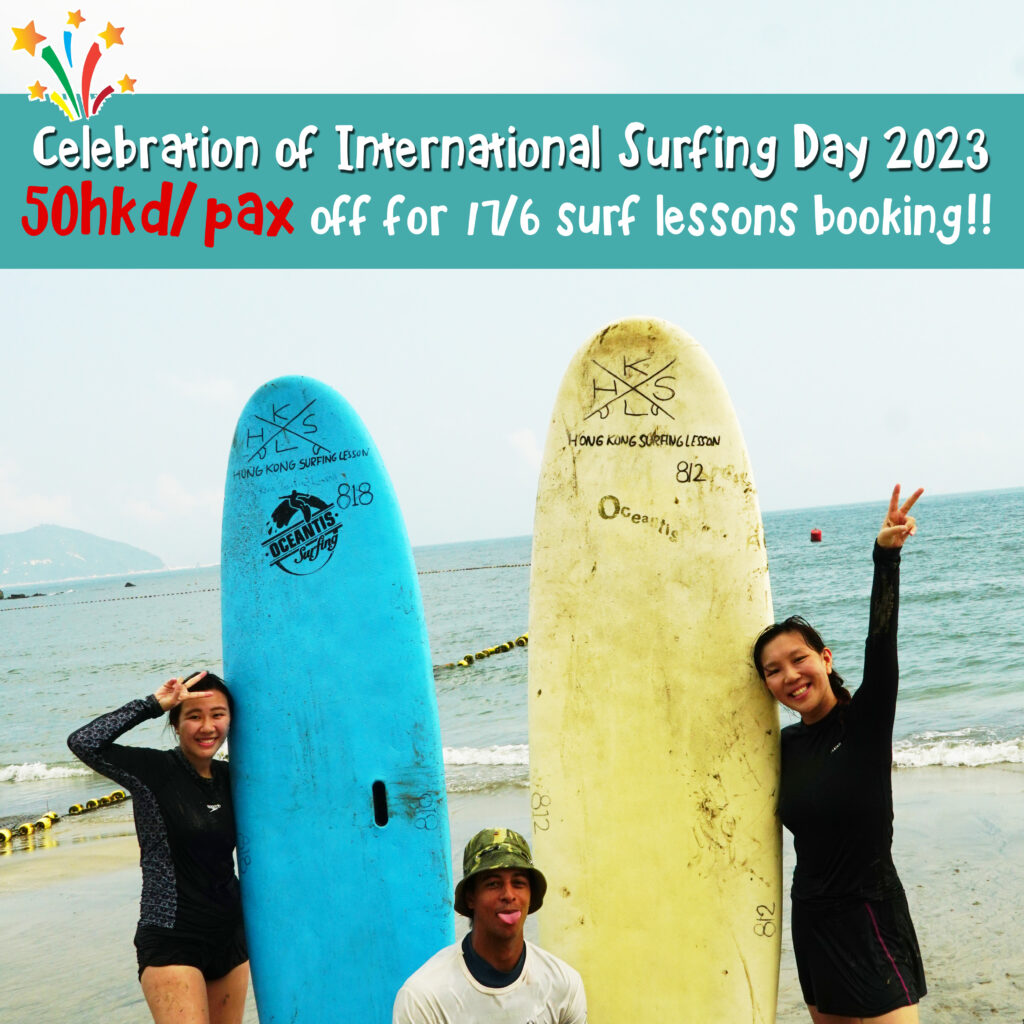 What is International Surfing Day?
International Surfing Day, held annually on the third Saturday of June, is an unofficial, environmentally conscious sports-centered holiday that celebrates the sport of surfing, surfing lifestyle, and the sustainability of ocean resources. The purpose of the celebration is to promote the popularity of surfing and to attract new participants.
50hkd/pax off for 17/6 surf lessons booking!!
HKSL also wants to celebrate International Surfing Day with you!! Introducing surfing & surf lifestyle to more Hong Kong People!! Try to get more people to be addicted to surfing:) Show us this post in order to get a deal!
Let's go surfing!!

17/6 Sat
A. 1030-1200; B. 1230-1400; C. 1410-1540; D. 1550-1720, E. 1730-1900
*You can join 1on1/1on2/1on3/Group3to5/ Combined group with other students/Group of 30 below
Learn with HKSL Instructors!
🌊 Learn how to balance/ Wave reading/ How to catch wave/ Wave Trimming/ positioning/ Ocean knowledge/ Improver skills; Welcome to people who want to experience the fun!/Take Surfing photos!
🌊Equipment:50+boards selection for lessons & rental. Get you suitable boards for lesson according to your levels/weight/age
🌊Age:4-70yo;
🌊Target:Adults/Kids/Family/Organisation/School
🌊Coaches:Head coaches are International (ISA)qualified with 9years surf coaching experiences;well trained team of coaches
🌊1on1/1on2/1on3/Group3to5/Group 6 to 10/Group of 50 below
🌊Board rental Discount:50/1hr, 100/3hrs
(Rent to people who learnt from HKSL)
🌊Discounted package:5-lesson &10-lesson package available
🌊Language: English, Cantonese, Mandarin
🌊Lessons available whole year, everyday available upon booking